Overview
What started out as a humble effort by a few denizens of society in 1975 has since snowballed into a huge momentum called Mahavir International. Working selflessly, fearlessly, dedicated & committed to alleviate & ameliorate the sufferings of mankind, irrespective of religion, caste, colour or creed, that's the essence of Mahavir International, well encapsulated in its short but universal motto. "Love All Serve All !". Today, with over 300 centres worldwide, including five abroad in USA, Australia, UK, Dubai and Singapore the organisation boasts of a committed member base of 8500 who are holding the beacon high.
Mahavir International Delhi centre, registered in 1979 under the Societies Act 1860, has been the torch bearer of the apex body since its inception. With the underlying objective of serving humanity at large, Mahavir International Delhi took upon itself the challenge to specialise in & provide quality Eye Care & Health care to the poor & needy strata of society who can ill afford these basic rights.
The organisation has been steadfastly working in this direction, and constantly innovating to reach their desired objectives. Today, Mahavir International Delhi is running 3 centres with 3 ultra modern eye operation theatres in backward areas with excellent team of doctors, para-medical staff and state-of-the-art facilities for Eyecare which are comparable to even the best of private Medical Centre & certainly a first among charitable ones. To further its service & reach, the organisation conducts a large no. of Eye & Health check up camps PAN India & runs several mobile medicate vans in far flung areas & JJ clusters.
The organisation has also launched flagship project "Doctor at Door step" with 2 fully equipped vans.
Under our flagship project 'DOCTOR AT DOOR STEP', we have organised 3092 free check-up camps Pan India. The camps are being sponsored by leading Business and Corporate Houses including Public Sector Enterprises and Bank viz ONGC, GAIL, SAIL, CONCOR, CWC, CONCOR AIR, IOCL, RITES, NBCFDC, NSKFDC, NSFDC, NMDFC,IGL & IRCON and private sector corporates such as TFCI, FLUOR DANIEL INDIA PVT LTD, RAJDHANI BESAN GROUP, SAFEXPRESS LOGISTICS & VIBES
COVID-19 RELIEF PROJECTS.
Mahavir International has always believed in "LOVE ALL, SERVE ALL". Following the same, during the first wave of this pandemic, MID distributed sanitary napkins, PPE kits, Masks, Face Shields, food packets, Ration bags etc. More than 2.95 lakh people benefited and approx Rs. 1 crore has been spent. Copy of our latest Monthly Magazine 'Mahavir Vision' for January'22 is enclosed as Annex-IV. In the second ferocious wave the MID stepped up the quanta and quality of its interventions through the following projects.
हर साँस है ज़रूरी
As a part of this initiative, CONCOR, A Navratna CPSE under Ministry of Railways came forward in support by sponsoring 180 Oxygen Concentrator and 5 ICU Ventilators for equipping Government owned/run and other Charitable Medical Centre over eight locations in the country. Sponsorship for nearly another 100 Oxygen Concentrator has been received from our members and donors, including five numbers sanctioned by National Scheduled Castes Finance and Development Corporation (NSFDC), a CPSE under Ministry of Social Justice and Empowerment. Through this project we have arranged 280 Oxygen Concentrator at a total cost of Rs.3.50 Crore with the support of our Life members, Corporate donors, Foreign donors and philanthropist.
सब को भोजन
After opening of lockdown, with many of the marginalized having lost their job sand facing difficulty in their basic needs including daily nourishment, MID played its little part in addressing this situation through a project"सब को भोजन" with the support of our Members and Well Wishers. In this project serve mid-day meal to around 250 beneficiaries on a daily basis against a token payment of Rs 5/- for more than four months outside our centres. Presently monthly nourishment along with health checks are happening on a continuing basis in five homeless shelter homes of Delhi. More than 43,239 food packets have been distributed under this initiative.
मिशन संजीवनी
Mahavir International Delhi also decided to join this program of national importance to vaccinate the population at large through "'मिशन संजीवनी", wherein our focus is on the most marginalized such as street side vendors, security guards, sanitation staff, rickshaw puller, casual labour, waste pickers, homeless etc who do not have the time, means or money to get themselves vaccinated. Two of our Medical Centre are working as 'Covid Vaccination Centers' with the support of Members, well wishers,PSEs [CONCOR,NMDFC,NSKFDC]. Camps have also been organized in the premises of CONCOR for its marginalized stakeholders. Till date a total of 16,280 persons have been vaccinated under this initiative.
Disaster Welfare Services
A. Uttarakhand Flood and Rain Fury of July 2013
MID constructed a five room Govt Inter College building at Naini (near Nauti) in Chamoli, Uttarakhand with 4 toilet blocks at a cost of about Rs 35 lakhs. Collapsed during July 2013 calamity the building was dedicated to Public through the then DM, Chamoli, on 26th December 2015 after was inaugurated by the then Dy Speaker of Uttarakhand Legislative Assembly. Additionally, MID paid Rs. one lakh for registration charges of land donated by local family of Sainji, Gairsain, Chamoli for construction of Sub Primary Health Centre.
MID had also generously contributed for calamity of April 1999 in Uttarakhand
B. Devastation in Nepal Earth Quake in April 2015
The Members of MID generously donated ready to use 70 shelter homes, clothes, medicines and food and household items of Rs. 4.26 Lac when a high intensity earthquake hit Gorkha District of Nepal-India's immediate neighboring country in April 2015 killing about 9000 persons, injuring 22000 persons, destroying/damaging many historic monuments in Kathmandu and rendering many homeless and helpless.
C.Unprecedented Floods in Kerala in August 2018
The MID also came forward to extend a helping hand by sending flood relief material in the form of Shelter Kits of Rs. 2.20 Lac to affected families of Kerala which was devastated by unprecedented floods in August 2018 causing death of about 400 persons.
D. KUTCH-BHUJ EARTHQUAKE
The Ml and its members contributed generously for helping the families affected by January 2001 Kutch Bhuj (Gujarat) Earthquake covering Ahmedabad causing about 1500 casualties and 1.7-lakh injuries and Orissa cyclone of late October 1999 causing around 10,000 fatalities.
E. CYCLONE IN ODISHA & ANDHRA PRADESH
The MI also came forward to extend a helping hand by sending flood relief material to affected families of Odisha & Andhra Pradesh which was devastated by unprecedented floods causing many deaths.
List of Medical Centre Run by Mahavir International Delhi
Rajdhani Charitable Eye & Medical Centre
+91 - 11 - 4801 9614, 9868107410
6550, Main Qutab Road, Nabi Karim, Near Hanuman Mandir, New Delhi - 110 055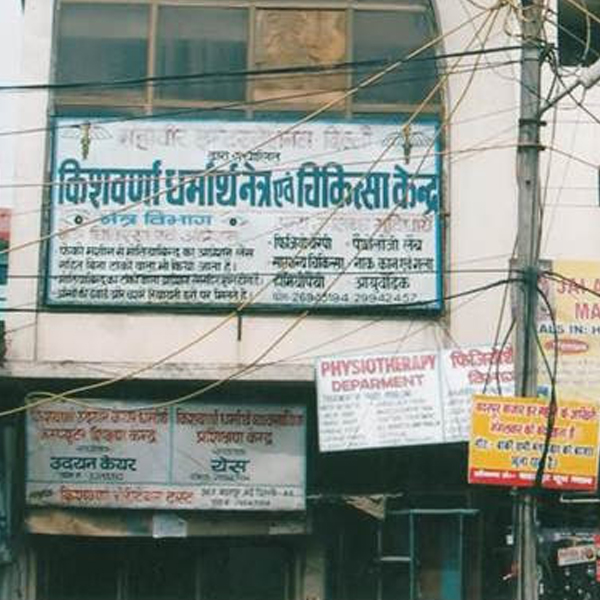 Kishawarna Charitable Eye & Medical Centre
+91 - 8802912149
36/3, Mathura Road, Badarpur, New Delhi-110 044
Lala Aman Singh Jain Charitable Eye & Medical Centre
+91-8130234214
264, B-1, Hauz Rani Market, Near Saket, New Delhi - 110 017
MID receives blessings of Honourable President of India Smt. Pratibha Devisingh Patil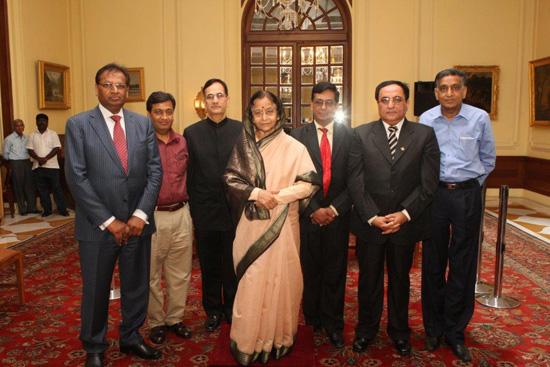 On 22nd June 2011 delegation of Core Group of Management of social service NGO, Mahavir International Delhi led by Sh. S. K. Jain IPS, Patron sought audience with Honourable President and apprised her with its activities in the sphere of eye care, eye pledges, eye donation and to realize the mission of Cataract Free Delhi.
By running three well equipped centres, it has received a landmark by providing free medical aid to more than 50 lakh Patients, performed 28789 cataract surgeries and cornea implants with free pick-up and drop back transport facility, organised over 3085 free check-up camps, besides securing over 34136 eye pledges and over 273 actual eye donations.
Moved by the selfless working of the NGO to ameliorate the hardship and suffering of needy and poor, Honourable President extended her blessing in achieving its mission.